Grilling steaks for Father's Day (recipes)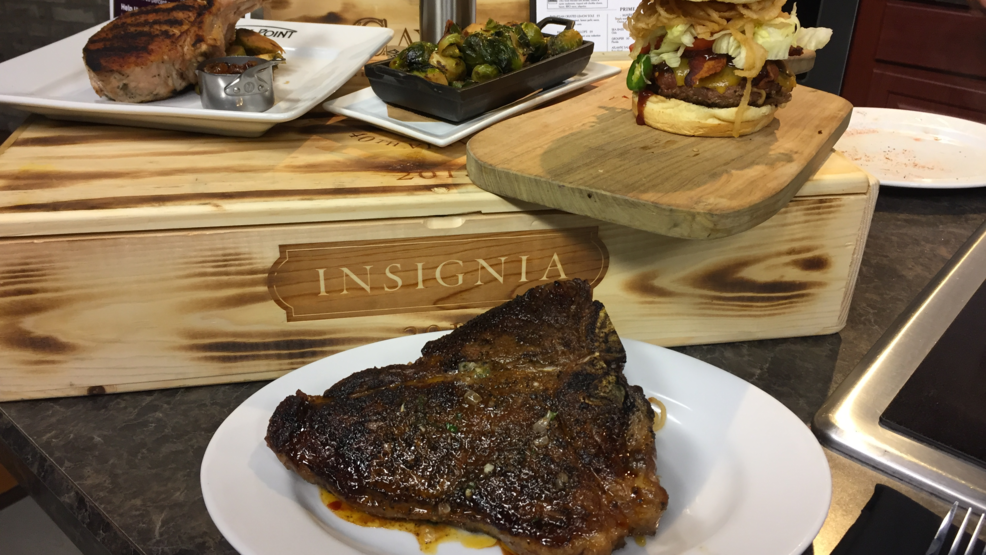 Black Point Prime Steakhouse regional chef, Scott Buttari grilled up a few dishes perfect for any dad this father's day.
Bison Cowboy Burger
Ingredients:
1 ea. Brioche Bun (Toasted)
6 oz. Ohio Bison Blend
2 oz. Charred Minced Wild Mushrooms (See Recipe)
½ tsp. Salt and Pepper
1 oz. Tillamook Cheddar Cheese
½ Cup Iceberg Lettuce, Chiffonade
2 Tomato Slices, ?" thick
¼ Cup Fried Onion Straws (thinly shaved white onions coat in flour, fry at 350° until crispy, drain and season with salt)
1 oz. Papaya BBQ Sauce (See Recipe)
1/8 Cup Jalapeños, thinly sliced
2 Slices Crispy Bacon
Procedure:
Mix burger and charred mushrooms until all incorporated and form into an 8 oz. burger patty
Season with salt and pepper and cook to desired temperature (grill or griddle)
Top with papya bbq sauce, and cheddar cheese and melt
Toast bun
Place burger on bottom bun, top with bacon, fried onions, chiffonade iceburg lettuce and top bun
Charred Wild Mushrooms:
1 lbs. Wild Mushroom Mix (See Recipe)
1 oz. Blended Oil
1 Tbs. Salt and Pepper
Mix all in a bowl; place mushrooms on a sheet tray and place under char broiler and cook until lightly charred; turn and cook the other side until lightly charred; Cool and Mince.
Adjust seasoning with salt and pepper as needed
Papaya BBQ Sauce:
1 Cup BBQ Sauce (Use you favorite one)
1 oz. Papaya Puree
Mix all in a bowl with a whisk until incorporated
Cajun Double R Ranch T-Bone
Ingredients:
26 oz. Double R Ranch T-Bone
1 Tbs. Cajun Seasoning (See Recipe or Buy at Store)
1 oz. Corn Oil
1 Tbs. Salt and Pepper Mix
1 tsp. Cajun Seasoning
1 oz. Cajun Butter (See Recipe)
Procedure:
Season both sides of the T-Bone with 1 tbs. of Cajun seasoning and corn oil, let sit in the refrigerator for 24 hours to marinate
Remove from the refrigerator and place on a wire rack at room temperature for 1 hour before cooking; remove any excess oil by patting
Season both sides of the T-Bone with rest of the Cajun seasoning, salt and pepper
Cook on hot grill until desired temperature and place on a tray; once done top with the Cajun butter and let rest for 3-5 minutes while the butter softens
Transfer to a plate and pour the melted Cajun butter and juices from tray on top of the steak to finish the presentation
Cajun Butter:
¼ Lbs. Salter Butter
1 TBS. Cajun Seasoning
1 tsp. Paprika
¼ tsp. Cayenne Pepper
Butter should be at room temperature. Place in a bowl and mix with all seasonings until evenly incorporated. Place back in the refrigerator to allow a compound.
Cajun Seasoning: (Store bought or prepared at home)
4 Tbs. Kosher Salt
1 Tbs. Black Pepper
1 Tbs. White Pepper
1 Tbs. Paprika
1 tsp. Cayenne Pepper
1 Tbs. Onion Powder
1 Tbs. Garlic Powder
1 tsp. Dried Oregano
1 tsp. Dried Thyme
Mix together evenly and store in a dry place.
Unmute